MEDIASRES - Novel Statistical Methodology for Diagnostic/Prognostic and Therapeutic Studies and Systematic Reviews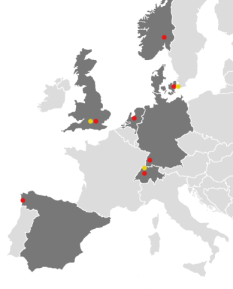 MEDIASRES is a successfully completed project. Here you will find a summary of aims, achievements and experiences. Please note, that selected sections such as publications are still updated.
MEDIASRES was an international PhD programme for highly motivated young scientists, where state-of-the-art research was combined with a comprehensive training programme. The network was funded by the European Community's Seventh Framework programme FP7/2011. The European Commission wants to make research careers more attractive to young people and therefore offers early-stage researchers the opportunity to improve their research skills, join established research teams and enhance their career prospects via the so-called Marie Curie Initial Training Networks. The scientific network goal of MEDIASRES was to develop tailor-made statistical methodology for meeting specific current and future challenges in diagnostic, prognostic and therapeutic research and systematic reviews. MEDIASRES was coordinated by the University Medical Center Freiburg (notably Professor Martin Schumacher from the Institute of Medical Biometry and Medical Informatics), has started on January 1, 2012 and was carried out over a period of 4 years. The network consisted of seven academic partner institutions (red dots) and three partners from industry (yellow) plus 1 Associate Partner from the USA (not on the map).
The main goal of the project was to establish a joint research-training programme by an interdisciplinary and intersectoral network for providing early-stage researchers with deep insight into cutting-edge statistical methodology. Europe-wide exchanges met the need for mobility in today's globalised society and the integration of full industry partners and clinical advisors in the network offered optimal conditions for research driven by application.
The network built up, strengthened and structured initial training of researchers at a European level based on a combination of the particular local education programmes, but also extending education beyond this. The aim was to create an inspiring and productive environment on an international competitive level for the training of a new generation of highly educated biostatistical researchers, who contributed and will further significantly contribute to, e.g., the design of trials and experiments, the analysis of complex or high-dimensional data and knowledge translation.
The funding period ended in December 2015. By then, already two of the 14 early-stage-researchers that started positions within MEDIASRES, had successfully finished their PhDs. All others are finishing up their theses and will pass the final PhD exams in 2016. All are pursuing their careers successfully and found either Postdoc positions at European universities or positions at the pharmaceutical industry. The scientific outcome is and will be further documented and updated in the publication section. For a short project summary, please read MEDIASRES publishable summary.




Partner Institutions

University Medical Center Freiburg (UKL-FR), Germany (Coordinator)

Leiden University Medical Center (LUMC), Netherlands

London School of Hygiene & Tropical Medicine (LSHTM), United Kingdom

University of Bern (UBERN), Switzerland

University of Copenhagen (UCPH), Denmark

University of Oslo (UiO), Norway

University of Vigo (UVIGO), Spain

Department of Biostatistics, Gillings school of global public health, USA (Associate Partner)

Partners from Industry

GlaxoSmithKline (GSK), United Kingdom

H. Lundbeck A/S, Denmark

Novartis, Switzerland